Sense of Community
A local Santa Cruz, California roofing company is part of your community. They live and work beside you. Their children go to school with your children. You see them shopping in the same stores as you.
They've weathered the same storms as you so understand best what you need in your area for a roof to have lasting value. They take pride knowing their roofs will be visible in the neighborhood as an ongoing testament of the reliability of their work for years to come and love to show them off!
Local roofing contractors create local jobs and income that contributes and stays in the community. They know the best local vendors keeping your materials and transportation costs down to reduce the carbon footprint of your project. By investing in a top rated local roofing contractor near you, you're investing in your community.
Accessibility
A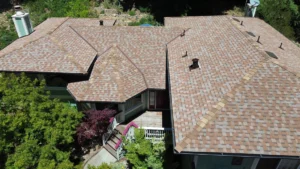 Santa Cruz roofing companywith a physical office near you that you can visit and meet the owner and discuss face-to-face costs and any concerns you have is invaluable. Knowing where they are and how to find them when you need help quickly is a level of personal care and attention you probably won't get with a roofing contractor out-of-town or out-of-state.
Fast Response Time
A roofing contractor near you helps reduce your damage risks by being able to respond quickly whenever unexpected storm damage occurs like tree branches coming down in high winds or sudden leaks from roof failure.  Being able to make roof repairs as fast as possible to prevent further expensive water damage can be critical, particularly during the rainy season when you may only have narrow windows of time between storms when work is possible. 
Knowledge of Local Laws & Regulations
A top rated Santa Cruz roofing contractor near you knows the local permits required and how to obtain them that vary from town to town. They know how to get a timely inspection of the work by the building department to finish the job quickly.  Their local knowledge of codes including cleanup and disposal requirements for environmental mitigation ensures all required quality standards are met.
Easy to Verify References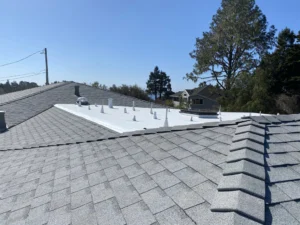 A local roofing company has an established customer base and can provide you with a list of references and repeat customers that have trusted them with their roofs in your community over the years.  Because these are local Santa Cruz County references they can frequently be easily verified by driving by the property if it is visible from the street.
Why You Don't Want to Hire an Out-of-town or Out-of-state National Roofing Company
Cheaper roofing estimates from out-of-town or out-of-state companies may be tempting but they can often cost you more when you consider all the long term factors.
Large national roofing companies rely upon high volume sales for their profit. High volume roofers don't always give the customer long term service and value for the work using low quality materials.
Many large national roofing companies actually hire "Storm chasers" of aggressive salespeople going door to door in areas hard it by a storm. For a homeowner facing an emergency situation wanting to get their problem solved quickly the low-ball estimate can sometimes seem attractive on first appearance.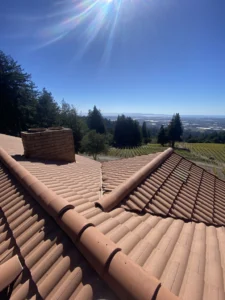 Know that large national roofing companies often farm the jobs out to smaller subcontractors they don't know very well. The result is if a problem occurs and you call the big national firm to resolve, you are a few steps removed from the person who will actually be solving the problem and it may not be the smaller company's highest priority to fix on a timely basis.
Compared to calling an out-of-state 800 number and reaching someone who doesn't know where you are or the amount of time it will take to get someone to come to you for and inspection, a local roofing company near you can get someone to your home much faster when time counts!
A top ranked roofing company will give you an extended 10 year warranty so that if something happens, they will return and fix it. An out-of-state may have a warranty, but it may take them time to find a roofing contractor near you and be slow to make the repair that can cost you more in additional damages.
This is why in terms of ease to work with, a local roofer you can call or visit the office and talk to the head of the company saves you precious time when serious problems occur during winter storms. A roofing contractor near you is motivated to put their reputation in the community first in a way that large national companies are simply unable to invest the same amount of attention and care.
A local roofing company owner or manager may frequently stop by the job site and make sure everything is going smoothly so you have a completely different attitude and involvement with the homeowner.  You rarely if ever get that type of attention from a large national roofing company.
A top ranked local roofing company will give you an extended 10 year warranty so that if something happens, they will come back and fix it. An out-of-state may have a warranty, but it may take them time to find a roofing contractor near you and be slow to make the repair.
Out-of-town roofing contractors may not be familiar with your community's unique construction codes and requirements or know the fastest way to get the work inspected and signed off on to complete the project.
Compared to a roofing company near you, out-of-town roofing contractors have greater transportation costs that will get passed along to you the customer and increases the carbon footprint of the project.
At a time, people are realizing more than ever that you need to think of your roof as your home's primary line of defense against ever increasing climate change, a local roofing company near you with a long list of happy clients that truly cares about your community and local environment is always your best choice.
Know the best questions to ask for Hiring the Right Roofing Contractor.
Shelton Roofing has successfully completed more than 30 thousand roofing projects in the course of our operations. Our services have included Monterey County, Santa Clara County, and Santa Cruz County and have spanned throughout California. If you are looking for a "Roofing contractor near me" you can't do better than Shelton Roofing by calling (831) 464-4120.